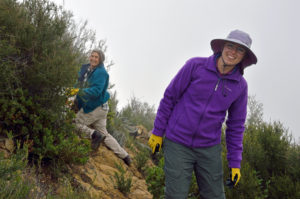 On Sunday, March 26th, a group of Forest Stewards spent their morning cleaning up trash on La Cumbre Peak near Santa Barbara. Due to its incredible views of the city, Santa Barbara Channel, and the Channel Islands, this area is a favorite spot of locals, tourists, and even a California condor that roosted below the peak for a night in 2015. However, Sunday's cleanup was one of the few to be held almost entirely within a cloud!
Most of the trash left in this area is from visitors picnicking at the peak and partiers who seem to enjoy throwing their glass bottles at the unique boulders below the lookout area. The group of volunteers removed an estimated 200 lb of trash — mostly cans and broken glass — from around the peak. Much of the surrounding chaparral landscape was littered with garbage, with cans and bottles embedded right in the center of many nearby shrubs.
These awesome Forest Stewards came from Santa Barbara, Goleta, and Camarillo, and a few people from near Palm Springs who were in town visiting family and happened to be at the peak at the same time didn't hesitate to throw on some gloves and help pick up trash. Thanks to all of these wonderful volunteers who dedicated their time to making La Cumbre Peak cleaner and safer for any visiting condors or other wildlife!
See below for more pictures from the cleanup: