< back to SBwild.org
Thanks to our generous donors, we're excited to offer these unique, one-of-a-kind items in our Santa Barbara WILD! live auction on Sunday, October 23, 2016. Proceeds from the auction will help support our local efforts to protect wildlife, wilderness, watersheds, and the great outdoors in your Los Padres National Forest. Here's a sneak peak of selected auction items; check back often for additions and updates!
Five Nights and Six Days at Casa Puesta del Sol
Farm-to-Table Retreat at Sonoma Broadway Farms for 20-30 Friends & Family
Gourmet Lunch for 10 With Congresswoman Lois Capps Overlooking a Los Olivos Vineyard
Oasis 20″ x 40″ Print on Metal by Marc Muench featuring the Grand Canyon's 50 Foot Falls
Luxury Getaway at the Belmond El Encanto Resort in Santa Barbara
High Meadows in the Backcountry 18″ x 18″ arylic on canvas by Marcia Burtt
Surf + Lunch at Hollister Ranch
Songwriting Session with Grammy-Winning Songwriter Todd Hannigan
Weeklong Stay at a Mountain Cabin Near Big Bear Lake
---
5 Nights and 6 Days at Casa Puesta del Sol
Valued at $9,000


Experience the pleasures of paradise for 5 nights and 6 days at Casa Puesta del Sol, located on the beach in Punta Mita, a picturesque fishing village nestled on México's Riviera Nayarit thirty minutes north of Puerto Vallarta.
This beautiful traditional hacienda-style home offers 6 bedrooms which sleep 12 total, a private pool, and chef and maid service. It is situated on an acre of land, surrounded on three sides by tropical foliage on a bluff overlooking the ocean, beautiful white-sand beaches, and turquoise waters that boast some of the best snorkeling, scuba diving, deep-sea fishing, surfing, and whale-watching in the world. Steps lead down to the beach from the house, and the surf spot is over a reef. Depending on the direction of the swell it can be a really good surf break.
This exclusive villa is minutes from several authentic Mexican villages with restaurants and shopping, and ten minutes from two world-class Jack Nicklaus signature golf courses featuring the world's only natural island green. Click here for more photos.
Enjoy incredible beaches, lush jungles, and an authentic taste of rural Mexico. The Punta Mita area is old México, the laid-back beach town surfers and off-the-beaten-track visitors have been seeking out since the 1960s. The village is tiny, with a handful of casually charming beachfront restaurants.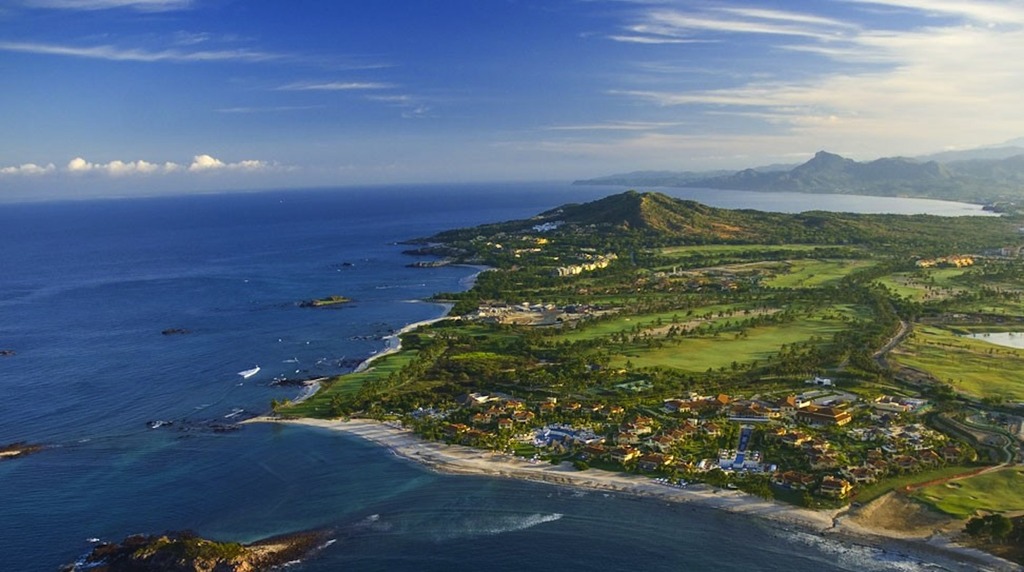 The shoreline is fringed by nine miles of pristine white sand and rugged lava rock formations. Rising in the background are the jungle peaks of the Sierra Madre Mountains. The Marieta Islands – a national park – are a 15 minute boat ride from Punta Mita, and are one of the most important places for marine bird watching in México and the eastern Pacific tropics, as well as being a shelter for countless varieties of marine species. The surrounding Bahía de Banderas, one of the world's largest natural bays, is the calving grounds for countless humpback whales that come here each year.
Just 30 minutes away, downtown Puerto Vallarta offers all the amenities of a resort city, with its heart the famed Malecón, a long pedestrian promenade flanked by the beach on one side and endless shops and restaurants on the other. Generously donated by the Welborn Family.
---
Three-Day Farm-to-Table Retreat at Sonoma Broadway Farms for 20-30 People
Valued at $6,000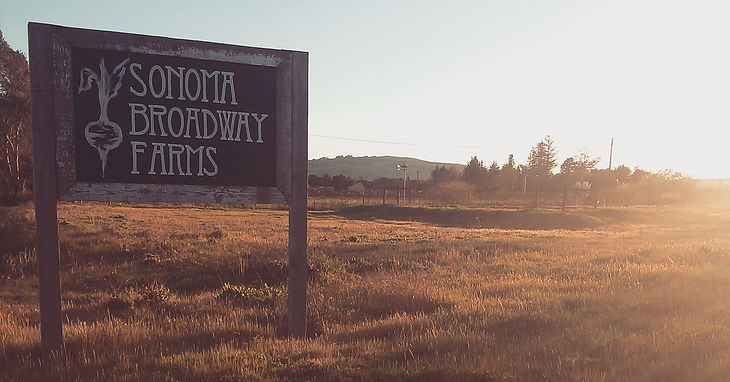 Perfect for your next family, business, or celebratory gathering! Gather with 20-30 of your friends and family at the new Sonoma Broadway Farms in downtown Sonoma! Experience traditional Sonoma farm lifestyle in modern barns surrounded by farm-to-table organic crops, an outdoor yoga studio and a fire pit. This six-acre farm features sweeping landscape views for your group retreat — family reunion, children's camp, company meeting, or simply good times with friends. Your stay includes a private chef.
Enjoy barn-house living for community and connection. The main house includes four bedrooms and four bathrooms, with two sets of bunk beds (a single and a double) in each room, sleeping 16 total. Additionally, the barn bunk house contains eight more bunk beds, sleeping another 16 total. Gather in the barn-house grand room over farm-to-table meals prepared by local Sonoma chefs. Learn to farm and cook same-day harvested crops directly from the gardens. Feel the Sonoma air in the bamboo open air yoga studio. Bike to local wine tasting rooms and wine country restaurants or lounge by the creek in a hammock.
Includes two nights and three days. Chef James Faber from the highly-acclaimed Delessio Market & Bakery in San Francisco will graciously prepare your meals using local, organic, GMO-free, and sustainable ingredients. This is the perfect gathering location to learn and connect, eat from our abundant gardens, and develop a deeper appreciation for the beauty of Sonoma and nature. Farm grown, chef prepared meals will nourish the body, while the farm itself, surrounded by rolling hills and fed by a small creek will nourish the soul.
Tucked away into an ancient valley near San Francisco, Sonoma – which means "town of many moons" – occupies a prized place in the heart of California Wine Country. From its historic Mexican colonial town plaza, to its annual Sonoma International Film Festival, this town is where history, culture, and art come together.
---
Lunch for 10 With Congresswoman Lois Capps
Overlooking a Los Olivos Vineyard

This once-in-a-lifetime experience grants you and nine guests a special afternoon with Congresswoman Lois Capps over lunch and libations at DeLanda Vineyard — a quaint five-acre vineyard nestled in Los Olivos that is home to Solminer Wine. Celebrate the Congresswoman's achievements during her two decades of representing Santa Barbara County in the halls of Congress. Learn an insider's view of our country's legislature from the "nicest member of Congress." And celebrate (or commiserate) in this November's election results.
Your afternoon includes wine tasting featuring Austrian varietals and local favorites from Solminer Wines, poured by the winemakers. Local chef Jake O. Francis will prepare delicious food creations for your lunch. His depth of understanding the farming process from start to finish is apparent in his rustic yet refined approach, showcasing locally grown and raised produce and meat. To top it all off, highly-acclaimed opera singer Ani Maldjian will make a brief appearance, singing several arias live and in person with her elegant soprano voice resonating throughout the vineyard.
Enjoy delicious farm-to-table cuisine from the Santa Ynez Valley while perched atop a grassy knoll with a deck overlooking the beautiful DeLanda Vineyard and surrounding hills with a live opera singer and one of our country's top conservation leaders. It doesn't get much better than this.
---
Oasis Print on Metal by Marc Muench
Valued at $2,800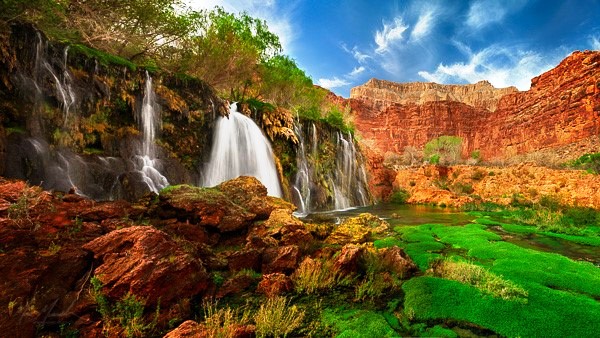 World-renowned landscape photographer Marc Muench masterfully captures 50 Foot Falls in the Grand Canyon in this 40″ x 20″ print on metal. Cable and hidden frame are installed, making this piece ready to hang in your home or office. "This is one of many waterfalls on the Havasu Creek as it descends through thousands of feet into the Colorado River and Grand Canyon National Park. The water comes from a natural springs that has combined with the mineral travertine, making it very clear and cold. The vegetation in the canyon includes many healthy cottonwood trees. The piles of rocks in the foreground are from a flood that broke loose the giant travertine formations from the cliff above, where they had formed over the course of hundreds of years."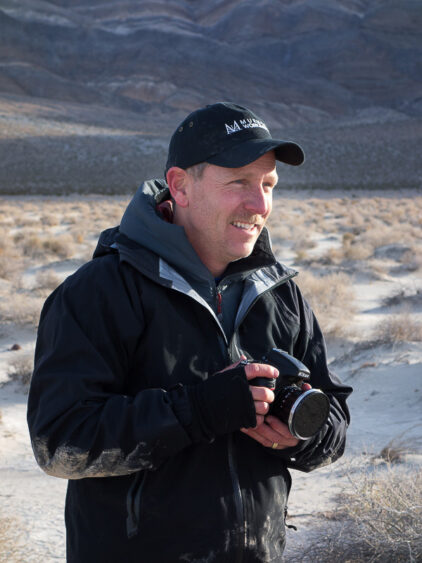 Marc Muench, a Santa Barbara native, has been a professional landscape photographer for more than two decades. His photography has appeared on covers or inside Time, National Geographic, Traveler, Sunset, Outside, and Sierra Magazine among many others. His work also appears in books, calendars, note cards, postcards, posters and annual reports. He is currently the photo editor of the National Parks guide, which features many of his images taken throughout the United States National Park System. Generously donated by Marc Muench.
---
Luxury Getaway at the Belmond El Encanto Resort in Santa Barbara

Enjoy a two-night stay in a Premier Bungalow at Santa Barbara's only Forbes Five-Star Resort! One of the most iconic hotels in Santa Barbara, the Belmond El Encanto sits high atop the Riviera amidst seven acres of lush gardens with views across the town and ocean. This 1920s landmark has been brought back to life with modern additions like an outdoor swimming pool, boutique spa, and fitness studio, plus dining restaurant, bar, and lounge.
Your enchanting hideaway is a Premier Bungalow with king-sized bed, furnished with a private patio or balcony from which to savor the Santa Barbara views. Custom linens, an exquisite fireplace, a sumptuous marble bathroom appointed with a separate deep soaking bath and rainforest shower, a heated stone floor, dual wash basins, a large working desk, widescreen HDTV, and high speed wireless Internet access are all included.
Valid Sunday through Thursday, blackout dates may apply.
---
High Meadows in the Backcountry 18″ x 18.5″ acrylic on canvas by Marcia Burtt
Valued at $2,400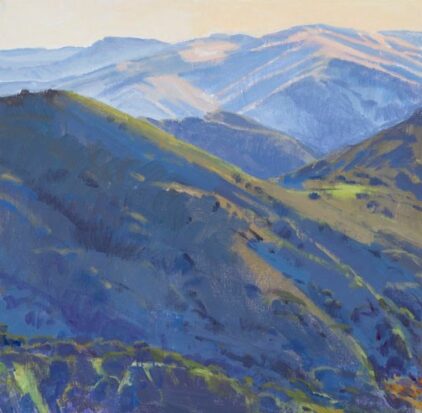 Adorn your home or office with this beautiful 18″ x 18.5″ scene of the Los Padres National Forest backcountry. Contemporary landscape painter Marcia Burtt is the proprietor of Marcia Burtt Studio, a gallery in downtown Santa Barbara, and teaches plein air workshops throughout the year. Burtt is a founding member of two groups that paint to protect California's agricultural, wilderness, and public lands. Through exhibitions with The Oak Group and SCAPE over the past 25 years she has helped to preserve dozens of endangered places.
"I painted this in December from the top of Quail Mountain, on the edge of my home ranch, looking south to
the Santa Ynez Range behind Santa Barbara, says Burtt. "Creating meaning from a random collection of natural objects requires seeing in a sensual way while at the same time imposing structure. This dance to create an object that holds a unique communication is the great joy of being a painter."
Burtt graduated from UC Berkeley focusing in pre-med, psychology, and art, and earned a master's degree in art from the University of Montana. Her paintings have been included in a number of exhibitions in regional museums across the country. Her work has frequently appeared in art publications, most recently a feature article in the Fall 2011 issue of Plein Air Magazine. She was included in the Rizzoli book, California Light: A Century of Landscapes, by Jean Stern and Molly Siple (2011).
Her paintings have been included in a number of exhibitions in regional museums, most recently "California Art Club Paints Malibu" at the Weisman Museum at Pepperdine. Burtt's large commissioned paintings hang in major healing centers, including MD Anderson in Houston and Cedars-Sinai Outpatient Cancer Center in Los Angeles.
---
Surf + Lunch at Hollister Ranch

Grab your boards and head up to the exclusive and private Hollister Ranch! You and three of your friends will spend the morning catching the best breaks, and then hang out at a cabana where your lunch will be served!
For decades, surfing the Hollister Ranch has been bucket list material for waveriders the world over. Classic setups like Razors and Little Drakes and Rights and Lefts have fueled daydreams of uncrowded breaks in an idyllic countryside setting. Unless you have connections or a couple million bucks to buy a parcel of land in this private community between Gaviota and Point Conception, surfing these waters has been all but impossible. Here's your chance to make the impossible possible with your winning bid on this exclusive experience.
---
Songwriting Session With Todd Hannigan
at His Recording Studio in Ojai

You're bidding on a two-hour private songwriting session with Grammy-winning artist Todd Hannigan. Todd and his band are providing the musical entertainment at our Santa Barbara WILD! event and this is your chance to jam with a local legend. After your session, stay overnight at Su Nido Inn, one of Ojai's premier hotels where you'll be treated like the rock star that you are.
Todd is an Ojai-based composer, singer-songwriter, and Grammy Award-winning film mixer and sound designer. He also is Founder of Brotheryn Studios, a recording studio in Ojai, California. With influences like Nick Drake, Mark Knofler, and Cat Stevens, he is known in the international surf community for his collaborations with the Malloy brothers, Jack Johnson, Ben Harper, and Jackson Browne. Hannigan's Brotheryn Studios is recognized for his work on award-winning surf films "thicker than water," "shelter," "groundswell," "Big Easy Express" (2012 Grammy-winner for best long form music video featuring Mumford & Sons, Edward Sharpe & Old Crow Medicine Show) and "Cuatro" (2014 Grammy-winner for the documentary about Green Day. Todd has been featured on KCRW's Morning Becomes Eclectic and has four studio albums. His original voice, perspective, and signature fingerpicking make him one of folk's underground sons.
One of Todd's favorite things to do is finish films and make them as good as possible. Often he gets a chance to score a film or portion of the film, do sound design , dialogue editing and mixing to complete a filmmakers vision.  He enjoys creating original music for ad campaigns (Dewar's, Sierra Nevada, AXA Insurance, and Figueroa Mountain Brewing Company) and has also created product sounds for such companies as Beats and SONOS.

---
Weeklong Stay at a Mountain Cabin Near Big Bear Lake for Six

Escape from the real world to this family cabin in the San Bernardino Mountains for six nights and seven days! Bear Foot Cottage is a tastefully-decorated and fully-remodeled quaint and peaceful two-story cabin with 3 bedrooms and 2 baths (sleeps six) with a outdoor spa centrally located in the heart of Big Bear Lake. The modern kitchen features granite countertops and stainless-steel appliances, plus a dining table and counter bar seating. The cozy living room has a 40-inch flat screen TV/DVD, a hand-crafted river stone fireplace, and WiFi internet connection.
The master bedroom is on the first floor with a queen bed and a TV/DVD. A hallway bath and laundry is available on the lower level. A convenience mudroom is perfect for stashing your snow gear, and opens to the fenced backyard with a fantastic outdoor spa and charcoal BBQ. The 2nd bedroom is upstairs and has two twin beds and TV/DVD. The 3rd bedroom upstairs has queen bed and a hallway bathroom.
Big Bear is a year round resort that has a variety of activities: water skiing, scenic lake tours, fishing, an alpine slide and snow skiing, zipline, hiking and mountain biking, and even an alpine zoo. Your cottage is within walking distance of Meadow Park (grass and picnic areas, tennis courts, sand volleyball court, play structure and swings) and Swim Beach on the lake. You can also walk to the Snow Summit Ski Resort; the Bear Mountain Golf Course and Bear Mountain Ski Resort are less than two miles away. The quaint Big Bear Lake Village is also less than two miles away, with plenty of opportunities for dining, shopping, and entertainment. For the adventurous, hike to the top of nearby San Gorgonio Mountain — at 11,500 feet it's the highest peak in southern California.
Restrictions: Based on availability, holidays excluded. No pets or smoking.