We will feature the following items in our Ojai Wild! live auction, taking place on Saturday, April 13, 2013. Thank you to our generous donors for contributing these exciting items to our event! All proceeds will help support our local efforts to protect wildlife habitat, wilderness landscapes, and the great outdoors in the Los Padres National Forest. Check back often for additions and updates.
Five Nights and Six Days at Casa Puesta del Sol
Milky Way Over Joshua Tree, Framed Photo by Marc Muench
Two Season Membership with Mano Farms CSA
Six Night Stay at Leo Downey's Buffalo Ranch Cabin on the Creek in British Columbia
Check back tomorrow as we announce more live auction items!
Make sure to reserve your spot at Ojai Wild! to bid on these exciting live and silent auction items! Unfortunately, this event is now sold out, but you may call our office at (805) 617-4610×2 to be placed on the waiting list for spots that may open up. If you are unable to attend the event, proxy bidding is also available. Visit OjaiWild.org for more information!
---
5 Nights and 6 Days at Casa Puesta del Sol
Valued at $9,000


Experience the pleasures of paradise for 5 nights and 6 days at Casa Puesta del Sol, located on the beach in Punta Mita, a picturesque fishing village nestled on México's Riviera Nayarit thirty minutes north of Puerto Vallarta.
This beautiful traditional hacienda-style home offers 6 bedrooms which sleep 12 total, a private pool, and chef and maid service. It is situated on an acre of land, surrounded on three sides by tropical foliage on a bluff overlooking the ocean, beautiful white-sand beaches, and turquoise waters that boast some of the best snorkeling, scuba diving, deep-sea fishing, surfing, and whale-watching in the world. Steps lead down to the beach from the house, and the surf spot is over a reef. Depending on the direction of the swell it can be a really good surf break.
This exclusive villa is minutes from several authentic Mexican villages with restaurants and shopping, and ten minutes from two world-class Jack Nicklaus signature golf courses featuring the world's only natural island green. Click here for more photos.
Enjoy incredible beaches, lush jungles, and an authentic taste of rural Mexico. The Punta Mita area is old México, the laid-back beach town surfers and off-the-beaten-track visitors have been seeking out since the 1960s. The village is tiny, with a handful of casually charming beachfront restaurants.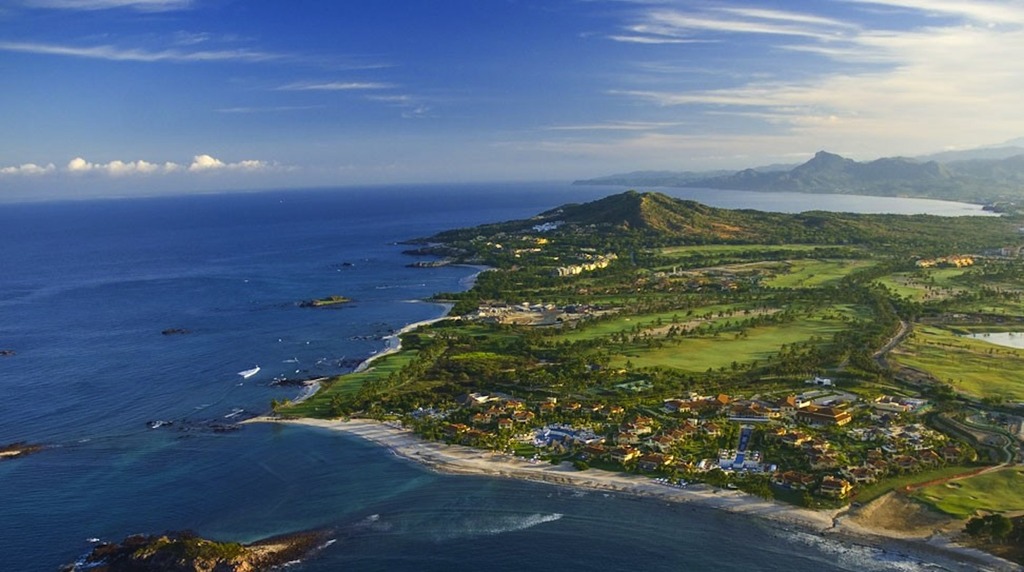 The shoreline is fringed by nine miles of pristine white sand and rugged lava rock formations. Rising in the background are the jungle peaks of the Sierra Madre Mountains. The Marieta Islands – a national park – are a 15 minute boat ride from Punta Mita, and are one of the most important places for marine bird watching in México and the eastern Pacific tropics, as well as being a shelter for countless varieties of marine species. The surrounding Bahía de Banderas, one of the world's largest natural bays, is the calving grounds for countless humpback whales that come here each year.
Just 30 minutes away, downtown Puerto Vallarta offers all the amenities of a resort city, with its heart the famed Malecón, a long pedestrian promenade flanked by the beach on one side and endless shops and restaurants on the other.
---
Milky Way over Joshua Tree, Framed Photo by Marc Muench
Valued at $1,500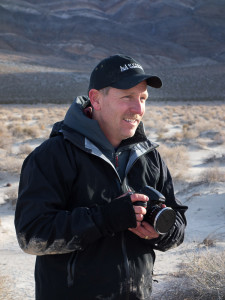 World-renowned landscape photographer Marc Muench masterfully captures the Milky Way galaxy as it casts an arc across California's Mojave Desert. The panoramic image offers a 180-degree view from a forest of Joshua Trees in the southwestern corner of Death Valley National Park. "This image is a panoramic of seven vertical images stitched together, taken at 5AM in the spring time. The orange glow is from Las Vegas to the East and Los Angeles to the South. It is only in this particular time of the year that Venus lines up with the Milky Way along the southeastern horizon to make a perfect arc over the sky."
Marc Muench, a Santa Barbara native, has been a professional landscape photographer for more than two decades. His photography has appeared on covers or inside Time, National Geographic, Traveler, Sunset, Outside, and Sierra Magazine among many others. His work also appears in books, calendars, note cards, postcards, posters and annual reports. He is currently the photo editor of the National Parks guide, which features many of his images taken throughout the United States National Park system. Generously donated by Marc Muench. Value $1,500.

---
 Two Season Membership with Mano Farms CSA
Valued at $930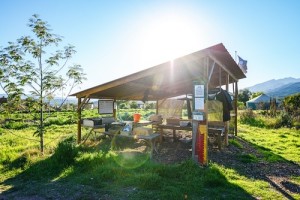 Enjoy two full seasons of organically grown fruits, veggies, greens, and herbs grown right here in the Ojai Valley. The winning bidder will receive a 31-week membership share in Mano Farm's CSA Program, entitling you to a nutritionally robust palette of fresh, healthy produce each week. Community Supported Agriculture (or CSA) is a model of farming that emphasizes a direct relationship between the grower and customer. Residents purchase seasonal shares in the farm, which allows the farmer to fund operating expenditures (e.g. seed, water, fertilizer, tool and labor). In return, members come to the farm on a weekly basis to receive a portion of everything they produce in a given season.
Being part of a CSA supports local agriculture, and allows you to have a relationship with your food — to know literally where it's coming from and how it's being grown. Mano Farm is a certified organic seed and produce farm located in Ojai. They farm  year-round, emphasizing the use of human labor and hand tools. They also support efforts to increase the availability of nutritious, healthy food to low-income individuals and families. Their farming methods are aimed at improving the health of the soil through the use of compost, cover cropping, crop rotations, and light amendments of their custom organic fertilizer blend. They do not use insecticides and pesticides, nor do they use Genetically  Modified Organism (GMO) seeds or grow GMO crops of any kind.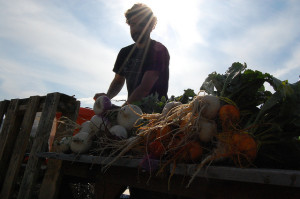 Each share typically contains seven to 12 produce items per week and varies seasonally. Here's a non-exhaustive sample of what was offered to members in this past year:
Spring: Broccoli, beets, cabbage, carrots, chicory, cilantro, collards & kale, cilantro, lavender wands, lettuce, mint, onions, peas, radicchio, radishes, sunflowers, Swiss chard, turnips.
Summer: Basil, chard, chicory, cucumbers, eggplant, garlic, onions, peppers (sweet and spicy), snap beans, sugar beets, tomatoes, melons, mint, onions, parsley, sunflowers, winter squash (pumpkins, etc.), zucchini.
Autumn: Broccoli, beets, cabbage, carrots, chicory, cilantro, kale and collards, lettuce, mustard greens, parsley, radishes, Swiss chard, winter squash.
Winter: Broccoli, beets, cabbage, carrots, chicory, cilantro, fennel bulbs, kale and collards, lettuce, mustard greens, parsley, radishes, rutabaga, Swiss chard, turnips
This auction item includes summer season (May 2 – Aug 15) and winter season (Aug 22 – Nov 28) for a total of 31 weeks. Produce must be picked up at the Mano Farms CSA stand in Meiners Oaks/Ojai on Fridays from noon to sunset. Generously donated by our friends at Mano Farm. Value: $930

---
Six Night Stay for Two at Leo Downey's Buffalo Ranch Cabin on the Creek in British Columbia
Valued at $1,200 CAD (approx. $950 USD)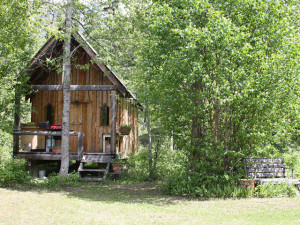 Relax and get back to nature with a stay in the Buffalo Ranch's off-grid cabin by the creek, a simple but wonderful space.
This cabin is set back into the forest with a creek that runs all year winding its way over rocks out front. A queen size bed is located on the loft above the wood fired sauna. The cabin now has a newly completed extension with a composting toilet and a wood stove to cook up a meal on. You will also find a propane BBQ on the front deck for your use.
Guests are welcome to use the main house 200m across the meadow to charge electronic devices or use the bathroom facilities.
Enjoy the Buffalo Ranch year round with varying landscapes of forest, wetlands and open meadows. Take one the the walking trails down to the Blaeberry River to get incredible panoramic views. Make use of the campfires, tipi, and shepherd's wagon also found on the property. Watch the Buffalo roam the pastures and keep an eye out for visiting wildlife. Have an up-close and personal experience on an educational buffalo tour.
Visit the Rocky Mountain Buffalo Ranch's website to learn more!
This stay includes a personal buffalo tour, a $100 CAD gift card to Island Restaurant, a certificate for a one hour guided horseback ride for two through the Canadian Rockies, and a signed copy of guitarist and author Leo Downey's new book Soultracker. Generously donated by our friend Leo Downey.
---