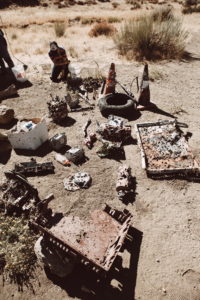 On Saturday, August 26th a small team of ForestWatch volunteers braved the blistering heat and ventured into the Upper Sespe watershed to clean up microtrash at an illegal target shooting site. Thanks to their efforts, over 250 pounds of microtrash no longer threatens the safety of wildlife and water quality in the area.
After meeting up in Ojai and carpooling to the site, our volunteers took a short hike to the site where they saw bullet casings, shells, broken glass, pieces of targets, and bullet-riddled electronics strewn across the bed of a stream that flows into Sespe Creek. The shooting site is not designated and it poses a fire risk in the Los Padres National Forest backcountry.
The colorful microtrash created by blasted targets also poses a significant health hazard for endangered California condors that have been known to fly over the area when traveling between condor sanctuaries in the Los Padres National Forest. For still unknown reasons, California condors have been observed feeding microtrash to their chicks, which can cause them to become malnourished with survival only possible by human intervention with surgical efforts. There are over 100 similar illegal target shooting sites throughout the national forest that pose the same danger to this critically endangered species.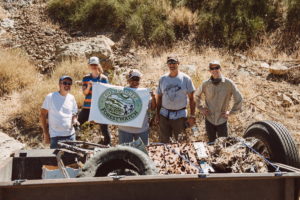 After working in the heat for a few hours, our small but mighty group packed out buckets of microtrash as well as large pieces of scrap metal, tires, and the usual lone bowling pin. Thank you to these fantastic volunteers and to the ForestWatch supporter who donated his trailer for the morning. We will continue to monitor this site and work to ensure that illegal target shooting is stopped there and elsewhere around the forest.
You can easily become a ForestWatch volunteer by clicking here or check out the list of our upcoming volunteer projects with information on how to sign up.
See below for a gallery of photos from this cleanup taken by our photography intern, Luke Williams: