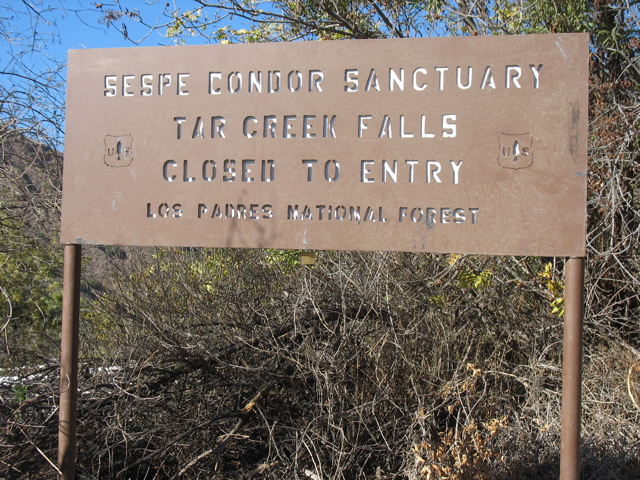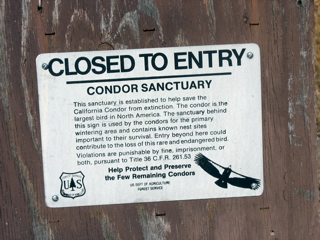 The US Forest Service has announced that federal law enforcement officers are now enforcing the closure of the Sespe Condor Sanctuary, and focusing on the user-created trail to Tar Creek.  This illegal trail once brought hundreds of people on weekends to the Tar Creek Falls, which is a also favorable roosting and nesting site for endangered California Condors. The public often left behind large quantities of trash, human food, people covered rocks in graffiti and created other hazards which led to numerous complications to the species' health. For example, in 2008 a condor was tragically strangled in rappelling lines that were left behind at the falls. Entry into the sanctuary can now result in a $5,000 fine and/or six months of jail time.
The Sespe Condor Sanctuary was established in 1947 to set aside a safe, protected area for condors to breed, nest, roost, and forage. Once extinct in the wild, condors were reintroduced in 1992 and their population has grown to over 230 animals now living in the wild. Today, the greatest threats to condors in the wild are lead poisoning from animals shot with lead bullets and then left in the field, microtrash which condors may feed to their young, and associating people with food which negatively impacts their natural behaviors.
This is one of the few remaining places of high-quality habitat left for the California condor, and despite the setbacks associated with public intrusion, has been a pivotal area for condor recovery. The existing travel corridors through the sanctuary (Sespe Creek, Agua Blanca Creek, Alder Creek Trail, and Bucksnort Trail) will remain open to public access. There are also a number of similar swimming hole sites within the forest, including the Punch Bowl, Bear Creek campground, and Matilija Falls (which we are currently fighting to restore public access to), but as in all forest areas, please be respectful of our shared environment.
ForestWatch strongly supports the Forest Service's decision to enforce the closure for the betterment of our critically endangered condors. Also in support of the closure are the US Fish and Wildlife Service, Los Padres Forest Association, the Santa Barbara Zoo, Friends of California Condors Wild and Free, and the Santa Barbara Museum of Natural History.
—
Additional information on the closure can be found from the following:
US Forest Service: Protecting the Sespe Condor Sanctuary
For all other inquiries, please contact the Ojai Ranger District at (805) 646-4348