2013 was a busy year for Los Padres ForestWatch, and we couldn't have done it without your encouragement and support. With your help, we continued to serve as the eyes and ears of the Los Padres National Forest and the Carrizo Plain National Monument, right here in our own backyard along California's central coast.
Here are our top accomplishments from 2013: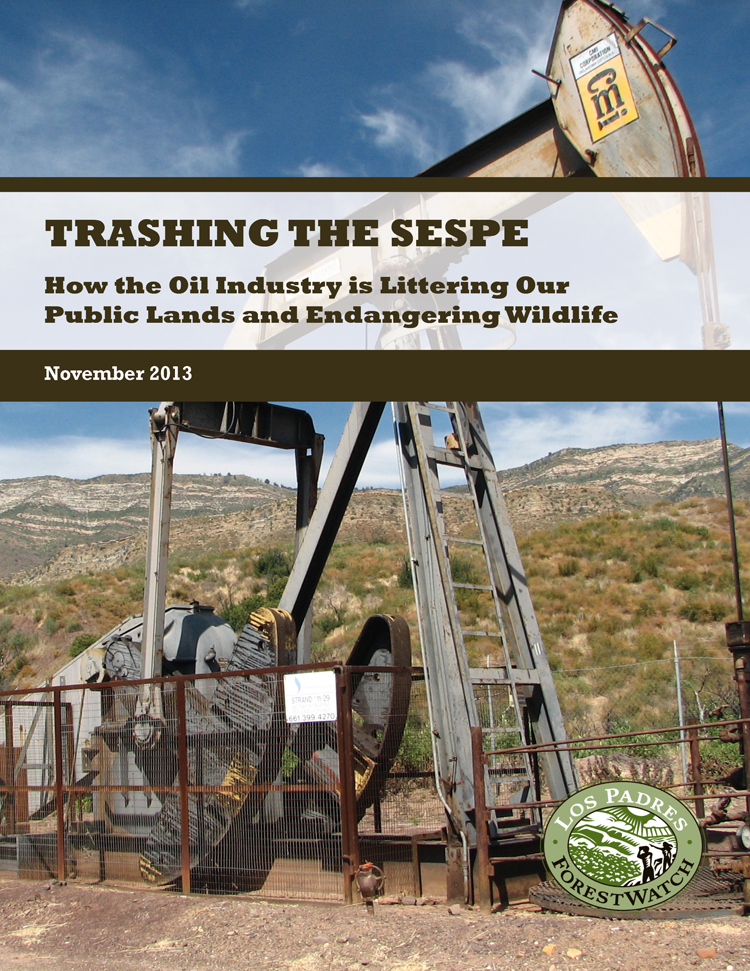 Microtrash Report
In the fall, ForestWatch conducted extensive inspections of several oil pads in the Sespe Oil Field in the Los Padres National Forest. Our inspections uncovered widespread trash contamination, toxic chemicals, and other hazards to wildlife. Our subsequent Trashing the Sespe report – the first-ever of its kind – demonstrated that the oil industry is not fulfilling its obligations to protect endangered California condors that live in the area, placing the entire California Condor Recovery Program at risk.
Ojai Wild!
Over 230 people in attendance! Over 100 silent auction items! Over $50,000 raised! ForestWatch's 2013 Ojai Wild! event was the biggest and best ever thanks to the generosity of so many supporters, sponsors, hosts, & friends. If you've never been – don't miss this event in 2014. Scheduled for April 12th, Ojai Wild! is our most important fundraising event of the year and all proceeds from this event go directly to the protection of the wildlife, wild lands, and outdoor recreational opportunities of the Los Padres National Forest and Carrizo Plain National Monument.
Membership Gatherings
More than 100 ForestWatch members gathered together to celebrate the great outdoors at our Membership Gatherings in Santa Barbara and Ventura. Attendees were treated to delicious appetizers, wine and beer, and presentations about wilderness hiking trails, oil drilling, and other exciting topics. At our 2013 finale in Ventura, Patagonia presented us with a $7,000 check to support our work. We hope to see you again at one of our membership gatherings in the new year!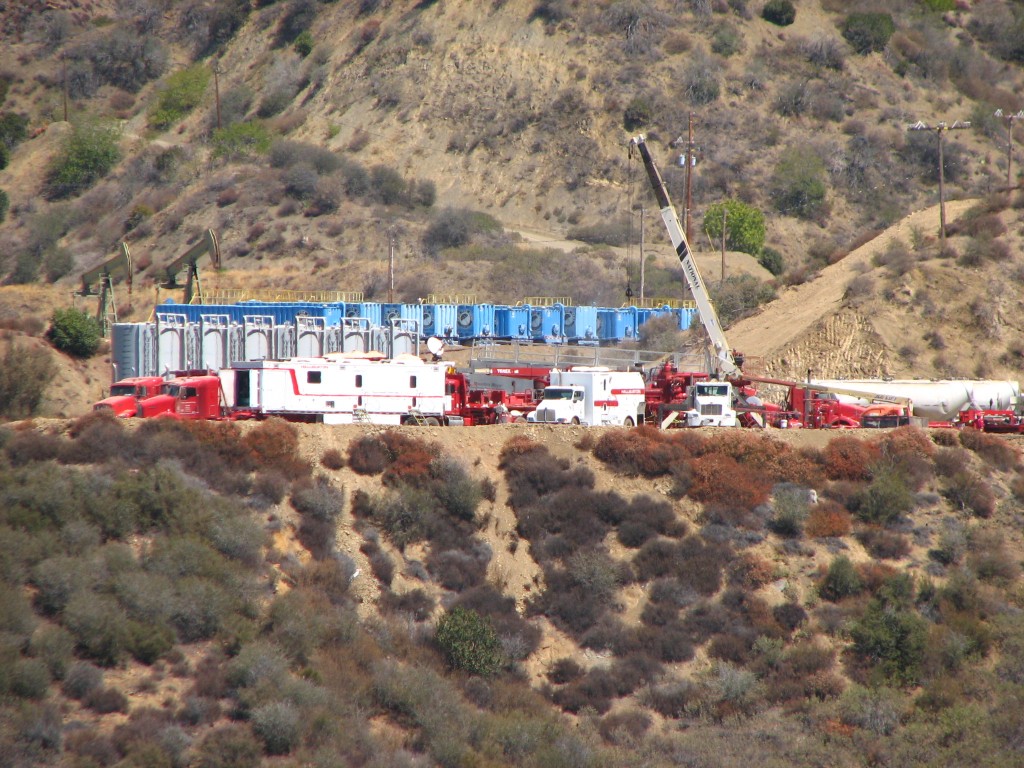 Fracking & Oil Drilling
For the eighth straight year, ForestWatch stopped the oil industry from expanding into any new areas of our local backcountry. Our lawsuit has continued to serve as the last line of defense, preventing the spread of intensive development across thousands of acres of forestland. We also continued to highlight the controversial – and unregulated – practice of hydraulic fracturing in the Sespe Oil Field, and worked diligently with our state and national conservation partners to craft strong regulations and demand thorough environmental studies before any more fracking occurs in our forest.
OHV Trespass
In September, ForestWatch discovered and reported several areas of illegal off-road vehicle trespass on national forest lands in the Santa Ynez Mountains above Goleta, Santa Barbara, and Carpinteria. We're currently working with law enforcement officials to ensure that the matters are fully investigated and prosecuted, and that any damaged areas are restored.
Forest Plan Comments
When the U.S. Forest Service released its draft policy against any new wilderness protections in the Los Padres National Forest, we helped generate more than 10,000 comments from residents throughout our region and the state urging forest officials to strengthen protections for our backcountry wilderness. We crafted our own detailed 43-page comment letter, and also submitted a letter signed by more than 50 local conservation groups. We're now reviewing the agency's final policy and preparing to file our formal objections if the Forest Service continues to leave vast areas of the forest vulnerable to development.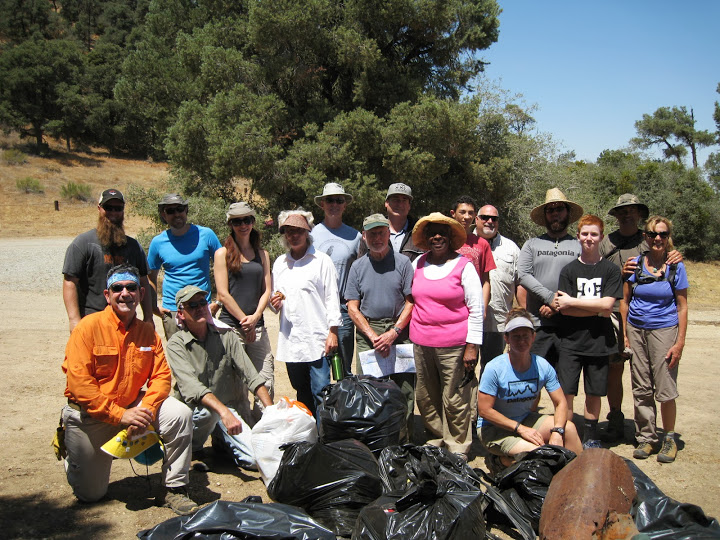 Volunteer Projects
In 2013, ForestWatch volunteers descended on the southern Los Padres for 9 volunteer projects, ranging from microtrash pickups in condor country, invasive tamarisk removal in the Sespe watershed, to a marijuana grow site cleanup in the Mount Pinos district. Over 1,000 lbs. of refuse was removed from the forest, and our volunteers contributed over 350 hours to various projects. We'll have even more volunteer opportunities in 2014! Join us!
Huasna Access
ForestWatch launched a new program in 2013 aimed at re-opening a historic gateway leading into the Los Padres National Forest east of Arroyo Grande. After a landowner constructed a gate across a County-maintained road, ForestWatch immediately began building a case to prove that the public has accessed this area for decades, and has a permanent right to continue using the area to access public lands and the Garcia Wilderness. We're now working with various stakeholders to craft a solution to this decades-old problem, in hopes of permanently restoring public access to thousands of acres of national forest land in San Luis Obispo County.
Wilderness
ForestWatch continued our long-term campaign to permanently protect more than 300,000 acres of land in the Los Padres National Forest as wilderness, and more than 150 miles of free-flowing creeks as "wild and scenic" rivers. This year, we expanded our campaign to include forest lands in San Luis Obispo County, the Carrizo Plain National Monument, and even Channel Islands National Park. We also continued to work with other stakeholders to promote mountain biking and trail maintenance throughout the Los Padres National Forest. We are now putting the finishing touches on our proposal and working with local elected officials to introduce wilderness legislation in the months ahead…stay tuned!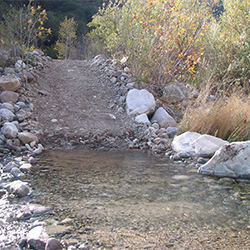 Sespe Creek Investigations
ForestWatch reported significant bulldozing in Sespe Creek, just downstream of the national forest boundary, and is working with our conservation partners at the Environmental Defense Center to ensure that law enforcement officials fully investigate and prosecute this repeat offender. ForestWatch also reported illegal cabins built in the floodplain of Sespe Creek further upstream. We're also working with the Forest Service to ensure the prompt removal of two other illegal structures built on national forest land along Sespe Creek. The Sespe is southern California's last free-flowing river, and ForestWatch is working hard to ensure that it stays that way.
Eyes & Ears of the Forest
Throughout 2013, ForestWatch continued to serve as your eyes and ears for the Los Padres National Forest and other public lands throughout Santa Barbara, San Luis Obispo, Ventura, Monterey, and Kern counties. We reviewed and submitted comments on 11 land use proposals, filed 7 notices of violation, and more than one dozen formal information requests. We also joined with dozens of conservation organizations to stop bad bills in Washington DC from becoming law, advocating for strong environmental protection legislation, increasing funding for important land and water conservation programs, and opposing loopholes. ForestWatch staff also attended 6 public hearings to speak out and demand strong protections for our local forest lands.
Conservation Through the Arts
The aim of art is to represent not the outward appearance of things, but their inward significance. — Aristotle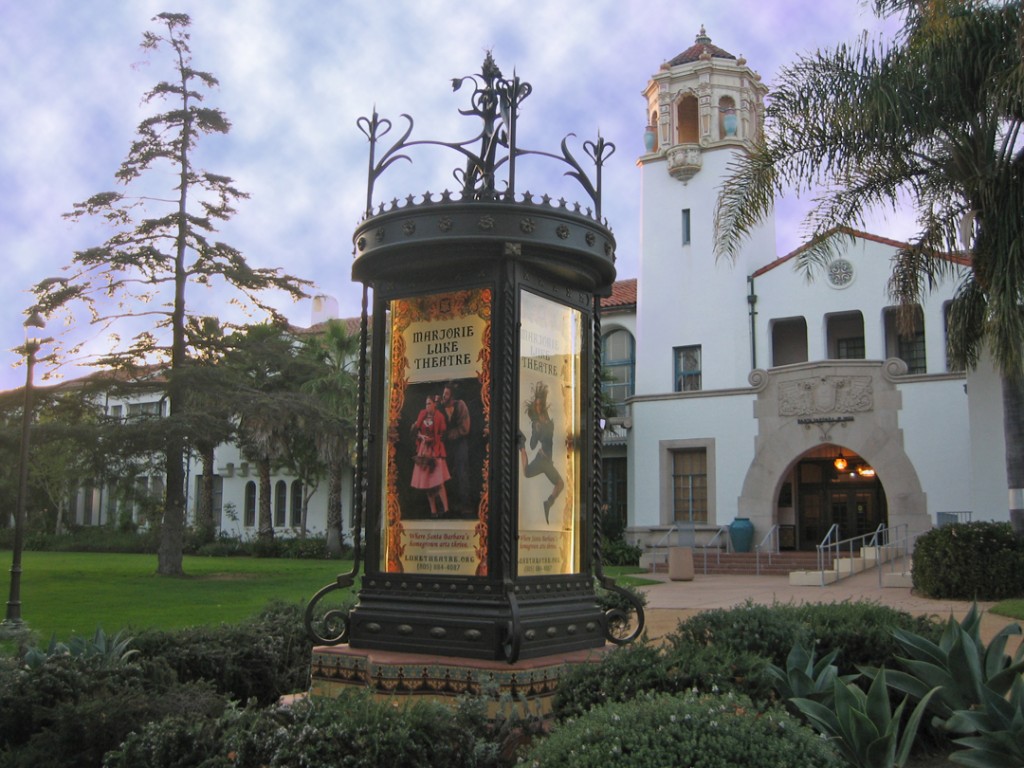 ForestWatch was honored to participate in three amazing art event benefits in 2013. The first as a beneficiary of the screening of the film The Condor's Shadow. This important and enlightening film focuses on the status of the California condor recovery program today – from just twenty-two condors remaining on earth in the 1980's to over 400 today and the challenges they currently face. The event was presented to a sold-out crowd at the Santa Barbara Museum of Natural History last March thanks to film maker Jeff McLoughlin.
In May we were up at the Tiber Canyon Ranch in San Luis Obispo for "Redwoods to Chaparral" – a San Luis Outdoor Painters for the Environment (SLOPE) benefit art show and sale. This event featured more than forty paintings of some of the most spectacular areas of the Los Padres National Forest and Carrizo Plain. More than 200 art and forest lovers came out that day and help raise over $6,000 to benefit local land conservation efforts of ForestWatch.
In September we returned to the big screen as we hosted the Wild & Scenic Film Festival on Tour in Santa Barbara. Nine award-winning environmental and outdoor adventure films were presented during the event to an audience of 240 and over 20 new members joined ForestWatch as a result. We hope to bring the Wild & Scenic Film Festival back in 2014…stay tuned!
Again, thank you for your support. We wish you all the best as we approach the new year, and we look forward to the challenges of 2014!