Your legacy gift will help keep the wildlife, wilderness, waters, and trails of the Los Padres National Forest protected for future generations! Inspire and influence others by letting us know about your planned gift today.
Leave a Legacy With Your Forest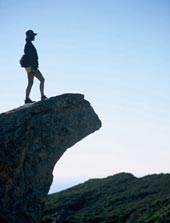 Including a charitable bequest in your will is a simple way to make a lasting gift to the places in our local backcountry that you hold dearly. Click here for sample language. We can help guide you through the process to leave a legacy gift for ForestWatch. Please contact our Membership & Advancement office at info@LPFW.org or 805.617.4610 x2.
If you tell us that you have included Los Padres ForestWatch in your will or estate plans, you will become a member of our Evergreen Society. Giving is a very personal choice and we respect your privacy. You may be a part of the Evergreen Society anonymously if you choose. Please contact us to let us know your personal preferences.
Other Ways to Give Through Estate Planning
There are many other ways that you can support ForestWatch. We encourage you to consult with your estate or financial planner for details. You may contact us if you need a referral.
Living Trust: Avoids probate. Just name Los Padres ForestWatch as a beneficiary.
Charitable Remainder Trust: This is a great tool for selling assets tax-free and receiving income for life; the remaining assets benefit Los Padres ForestWatch. It provides steady cash flow and can be more beneficial than keeping an asset or selling it outright.
Life Insurance: Donate your policy and deduct future premium payments, or just name Los Padres ForestWatch as a policy beneficiary. There is also a non-revocable life insurance trust option.
Retirement Assets: Retirement funds are subject to substantial income and estate taxes, but are tax-free to Los Padres ForestWatch.
Charitable Lead Trust: You greatly reduce or avoid estate tax on trust assets passing to family if some trust income goes to Los Padres ForestWatch for a few years.
Lifetime Bequest: A "lifetime bequest' is a combination of a gift or pledge now plus an estate gift later to facilitate and maximize the impact of your gift.
Real Estate Gift: Donate real property to ForestWatch to benefit our work and reduce your burden of managing the property.
Life Estate Deed: You can deed your home or farm property to Los Padres ForestWatch, save taxes with a current deduction, and still use the property for the rest of your life. It won't reduce your disposable funds.
Privacy Policy
ForestWatch respects your privacy, and does not sell, rent, or trade the addresses or contact information of its members and supporters.
Our Tax ID#
20-1531390 
ForestWatch is registered as a nonprofit public benefit corporation with the Internal Revenue Service and the California Franchise Tax Board. ForestWatch is also registered with the California Attorney General Office's Registry of Public Charities.