On January 3, 2018, the U.S. Forest Service quietly announced plans to change how the agency complies with the National Environmental Policy Act, one of our nation's bedrock environmental laws. Responding to the announcement, ForestWatch joined a chorus of 83 land and wildlife conservation organizations from across the country in urging forest officials to avoid weakening these important environmental protections.
The Forest Service's announcement — called an Advance Notice of Proposed Rulemaking — seeks to change how the agency notifies the public about decisions and projects that are proposed in national forests, and how the agency studies the environmental impacts of everything from oil drilling, mining, and logging, to trail maintenance and habitat restoration projects. It specifically seeks recommendations from the public on what procedures and regulations should be "modified, reduced, or eliminated."
The notice also announces plans to exempt certain types of projects from public notice and environmental review altogether.
In a 43-page letter signed by ForestWatch and spearheaded by The Wilderness Society, Western Environmental Law Center, and Southern Environmental Law Center, the groups urge the Forest Service to use its existing authorities to improve budget and staffing challenges that reduce the effectiveness of its NEPA reviews currently. In addition, the letter encourages the Forest Service to involve the public earlier and more often, and warned that reducing or eliminating public engagement opportunities often results in poor decisions and ultimately more delays.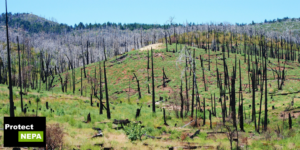 "We have learned over the years that attempts to undercut NEPA's democratic principles of government accountability and public engagement often result in more controversy and less trust, collaboration, and efficiency in the long run," states the letter.
The groups' letter also notes that the Forest Service already has a broad range of existing tools and authorities – including over three dozen exemptions from NEPA – that allow it to expeditiously implement forest restoration and trail maintenance projects that enjoy widespread public support.
The Forest Service's notice follows several other actions taken by the Trump Administration and Congress to reduce or eliminate protections under NEPA:
In April 2017, the Council on Environmental Quality cancelled a policy that required federal agencies like the U.S. Forest Service and the Bureau of Land Management to consider greenhouse gas emissions and climate change in deciding whether to approve projects on federal land like oil drilling.
In September 2017, the Interior Department issued a memo restricting the length of environmental studies in order to "streamline" the NEPA process.
A bill currently pending before Congress would allow the Forest Service to exempt certain projects up to 30,000 acres (nearly 50 square miles) from public notice and environmental review under NEPA. The misnamed Resilient Federal Forests Act of 2017 (HR 2936) would create one of the biggest loopholes in NEPA since the landmark law was first enacted in 1970.
ForestWatch will continue to work with conservation partners throughout the country to defend and uphold our nation's bedrock environmental laws. We will carefully review any attempts to roll back the public's ability to weigh in on important decisions affecting our public lands.