Fall-Winter 2012 Newsletter Now Available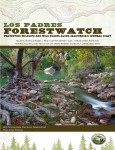 You can now click here to download the must-read fall/winter issue of ForestWatch's membership newsletter.
In this issue:
Fracking – a controversial oil extraction technique is making a resurgence in the Sespe Oil Field
Target Shooting – irresponsible target shooting threatens environment and public safety in the Los Padres
Condors – ForestWatch defends old-growth trees used by endangered condors
Forest Crimes – ForestWatch encourages the Forest Service to increase penalties for crimes in the Los Padres
Critter Corner: oaks & foothill yellow-legged frog
Plus, our wilderness photo contest winners are announced, a message from our Executive Director, a listing of upcoming events, and more.
We hope you enjoy this issue of the ForestWatch membership newsletter. Please consider becoming a member today and help us continue our efforts to protect our region's public lands. If you'd like to receive our thrice-yearly newsletter by postal mail — and help support our trail-blazing work to protect the Los Padres National Forest and the Carrizo Plain — join us today!