Fall 2014 Newsletter Now Available
You can now click here to download the must-read spring issue of ForestWatch's membership newsletter.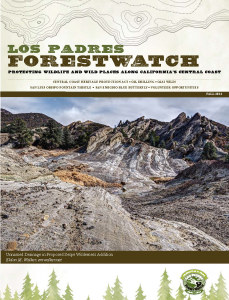 In this issue:
Central Coast Heritage Protection Act – Legislation introduced in Congress to permanently protect key wildernes areas, free-flowing rivers, and recreational trails throughout Santa Barbara, Ventura and San Luis Obispo counties.
Oilfield Appeals & Fracking Advocacy – ForestWatch appeals two test wells, and stops a proposal to frack three wells in the Sespe
A Wild Success! – Recapping our springtime benefit barbeque and auction in Ojai
Volunteer Field Projects – Our volunteers get dirty digging out invasive plants and cleaning up trash in the Santa Barbara and Ventura backcountry
Get on Your Gloves! – Upcoming volunteer opportunities in the field
San Emigdio Blue Butterfly – ForestWatch petitions the Forest Service to add this imperiled butterfly to the sensitive species list
Plus, meet our new Wild Heritage Program Director Laura Albers, our summer interns, a message from our Executive Director, a listing of upcoming events, and more.
We hope you enjoy this issue of the ForestWatch membership newsletter. Please consider becoming a member today and help us continue our efforts to protect our region's public lands. If you'd like to receive our thrice-yearly newsletter by postal mail — and help support our trail-blazing work to protect the Los Padres National Forest and the Carrizo Plain — join us today!