Last week, a key House committee approved legislation that would harm the Los Padres National Forest and other forests throughout the country by eliminating protections for endangered species, limiting public comment and environmental review, and increasing logging.
The bill – H.R. 2936, the "Resilient Federal Forests Act of 2017, sponsored by Rep. Bruce Westerman (R-Ark.) – would eliminate several environmental protections that are currently in place on national forest lands.
Among other harmful provisions, the bill would eliminate the Endangered Species Act's requirements that the Forest Service ensure projects like logging, oil drilling, mining, and road construction do not harm endangered wildlife and plants. It would rush the normal review process for evaluating impacts to Native American sacred sites. It would also reduce the public's ability to participate in how public lands are managed, and would tie the hands of judges when reviewing forest projects in federal court. Finally, it would render the forest plan – a blueprint for each national forest – meaningless, gutting requirements to evaluate the impacts of forest-wide actions and incorporate public participation into the planning process.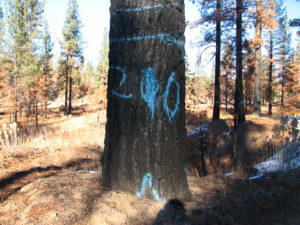 The bill would also allow rushed logging and vegetation clearing projects up to 30,000 acres (46 square miles) without meaningful public involvement or scientific evaluation of harms.
The House Committee on Natural Resources approved the measure on June 29, 2017 along party lines, with 23 Republicans voting to advance the bill and 12 Democrats opposed. The bill now moves to three other House committees for review before a possible vote on the House floor later this year.
The bill currently has 8 co-sponsors: Rep. Raul Labrador (R-ID), Rep. Tom McClintock (R-CA), Rep. Richard Nolan (D-MN), Rep. Collin Peterson (D-MN), Rep. Cathy McMorris Rodgers (R-WA), Rep. Chris Stewart (R-UT), Rep. Glenn Thompson (R-PA), and Rep. Scott Tipton (R-CO).
Some of the most harmful provisions of the bill that would affect the Los Padres National Forest include:
101 – Allows the Forest Service to evaluate only two alternatives in Environmental Assessments or Environmental Impact Statements: (1) the agency's proposal, and (2) taking no action. This "all or nothing" approach eliminates the normal requirement to evaluate a "reasonable range of alternatives" that may reduce or avoid certain environmental impacts.
‌
111 – Allows the Forest Service to exclude projects from environmental review up to 30,000 acres in size (currently, the largest exemption allowed is 4,500 acres). This is a seven-fold increase in the acreage cap, and will result in the approval of massive projects with minimal environmental review and public input.
‌
112 – Excludes from environmental review timber salvage operations up to 10,000 acres, and gives the authority to the Regional Forester to waive normal requirements for protection of streambeds from erosion and vegetation removal. This would cause significant impacts in areas that are recovering from the effects of fire, floods, and other natural disasters.
‌
115 – Excludes removal of vegetation, creation of fuel breaks, modification of fences for livestock grazing, installation of erosion control devices, development of springs and troughs for livestock grazing, non-native seeding, soil treatments, and use of herbicides, up to 10,000 acres.
‌
123 – Under the Endangered Species Act, the Forest Service must consult with FWS and NOAA Fisheries for any project that may affect protected species. That consultation results in recommendations and changes to the project that help to avoid or minimize impacts to endangered and threatened plants and animals. Due to the complexity of the review, it can take months (and in some cases, years) to complete the consultation. This section would expedite consultation under the Endangered Species Act – if it is not concluded within 90 days, the project can be carried out without any compliance with the ESA, and without any protections in place to protect imperiled plants and animals.
‌
321 – Allows the Forest Service to direct any legal challenges to a project to arbitration. The Forest Service selects the list arbitrators, and selects one from the list if the parties are not able to agree on one. The arbitrator's decision is not subject to environmental review or judicial review, and is binding. The arbitration process must be completed within 90 days.
‌
901 – Removes the requirement to consider impacts to wilderness, sensitive species, cumulative impacts, and impacts to threatened and endangered species in determining whether to prepare an Environmental Assessment.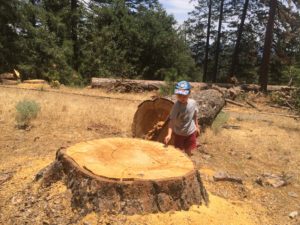 The Forest Service currently has 31 types of projects that are excluded from the normal requirement to prepare an Environmental Assessment or Environmental Impact Statement. This new bill would add several more of these so-called "categorical exclusions" and would expand by up to seven times the size of projects eligible for exclusion from environmental review.
ForestWatch joined with nearly two dozen other conservation groups from around the country, lodging a letter with the House Committee in opposition to the bill. In urging legislators to strongly oppose the bill, the letter states, "As currently written, the bill severely undermines the National Environmental Policy Act (NEPA), eliminates citizen opportunities to seek judicial relief, allows millions of acres of currently protected roadless areas vulnerable to harmful road building and logging, reallocates funds under the Secure Rural Schools Act away from environmental restoration to timber production, dismantles interagency consultation integral to the Endangered Species Act, and puts national monuments designated under the Antiquities Act at risk." Among its problematic provisions, the bill creates multiple sweeping NEPA waivers; limits consideration of alternatives to the preferred action and no action alternatives; imposes 2-month deadlines on certain environmental assessments; and undermines citizens' ability to enforce the law.
ForestWatch and our partners will continue to track this legislation as it moves through the legislative process.